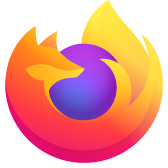 change font size to larger permanetly
need larger font sise for all of fire fox and and web sight like face book or any other sights
need larger font sise for all of fire fox and and web sight like face book or any other sights
Alla svar (2)
Hi Phyllisj, do you want to enlarge the toolbar area as well as the page content area, or just the page content area?
If you just want to enlarge the page content area, here are two add-ons which allow you to set a global or default zoom level that apply to all pages. For example, you could try 120% (or 1.2) and see how that feels.
After setting your global or default zoom level, you can still fine-tune the zoom on individual sites using Firefox's standard zoom feature (keyboard shortcut or mouse wheel or menu). More info: Font size and zoom - increase the size of web pages.
If you want to adjust the interface size, too, there is a more obscure setting for that which you could try first before using one of those add-ons. Details if needed.
You can look at this extension to adjust the font size in the user interface.
You can set a global Zoom that affects both the user interface and web pages (this modifies the layout.css.devPixelsPerPx pref). You can do this via the Options/Preferences of the extension (about:addons or the Tools menu).
For adjusting the font size on web pages you can look at the above mentioned extensions (NoSquint, Default FullZoom Level).