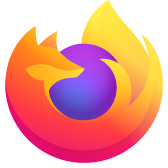 i click on facebook it tells me Sorry, something went wrong. We're working on it and we'll get it fixed as soon as we can.only y not on firefox
i fire fox, but in the last couple of months i have not been able to get onto face book with fire fox. i can acess any other web page just not face book.i have tried the trouble shootings that are posted and still have the problem. i disabled all the add on's i have had to go to chrome but i would rather use fire fox. face book says it is at your end and not theirs.. can you please please help me?? thank you
i fire fox, but in the last couple of months i have not been able to get onto face book with fire fox. i can acess any other web page just not face book.i have tried the trouble shootings that are posted and still have the problem. i disabled all the add on's i have had to go to chrome but i would rather use fire fox. face book says it is at your end and not theirs.. can you please please help me?? thank you
Alla svar (1)
Hi blackrose72, Let's troubleshoot the login cookies in Firefox to get you back to Facebook. Please try these steps:
Delete the website from the cache by navigating to about:permissions
Search for Facebook
Click on "Forget Site"
Restart Firefox
Open a Facebook in a regular window and a private mode window.
Login to Facebook, what happens?