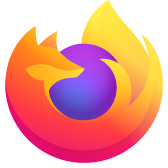 Firefox Library Color
After ColorWays was disabled I installed the FireFox Color add-on to recreate the theme I had been using
Everything works fine except when I open the Library window or Add-on windows I get the 'Dark Theme' instead of the 'Light Theme'
After experimenting with different colors I found that the 'Toolbar Color' setting here https://color.firefox.com determines whether the Library is light or dark
It seems only the very lightest colors allow the light theme even though on ColorWays the intermediate themes allowed it and had exactly the same level of brightness as the custom one I created
Is the there any way to independently alter the Library color without having to the change the Toolbar theme I read this https://developer.mozilla.org/docs/Mozilla/Add-ons/WebExtensions/manifest.json/theme#colors but it doesn't mention the Library
Thanks
After ColorWays was disabled I installed the FireFox Color add-on to recreate the theme I had been using Everything works fine except when I open the Library window or Add-on windows I get the 'Dark Theme' instead of the 'Light Theme' After experimenting with different colors I found that the 'Toolbar Color' setting here https://color.firefox.com determines whether the Library is light or dark It seems only the very lightest colors allow the light theme even though on ColorWays the intermediate themes allowed it and had exactly the same level of brightness as the custom one I created Is the there any way to independently alter the Library color without having to the change the Toolbar theme I read this https://developer.mozilla.org/docs/Mozilla/Add-ons/WebExtensions/manifest.json/theme#colors but it doesn't mention the Library Thanks
Vsi odgovori (6)
Beyond the theme and color options Firefox provides that is up to 3rd party software or Addon or userChrome.css to support their version. Otherwise you have to use the firefox toolbar and reset the settings back to default to fix issues if need be.
You may be able to retrieve the theme you were using. Remove the blank space below.
https://www.reddit. com/r/firefox/comments/uq26ao/bringing_back_your_preferred_colorways/
See also:
/questions/1402544 Where is firefox Colorways in new version 109 > Those Balanced Themes Are
OK thanks for the info regarding retrieving the FireFox themes but what about the FireFox Color editor
Is the Library color independently alterable or is it locked in sync with the Toolbar color ?
I'm asking here since FireFox Color isn't a 3rd party add-on but an official FireFox product