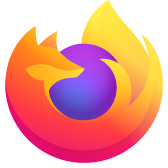 Print Projects Only Print in the Left top 1/4 Page
I just bought an HP Officejet 9018. I tried printing a receipt that was sent as an attachment to my gmail. It only prints very small in the upper left hand corner even though the print preview looks normal. I tried to print a return label that Amazon sent me a link to. It printed the same way. I called HP & after connecting with my laptop & trying many different settings unsuccessfully, they had me try to print from Chrome. The attached receipt in gmail & the return label printed fine from Chrome. It also printed fine from my gmail in my Android phone & my iPad, so the issue is only when in Firefox on my Windows 10 computer. My saved documents print fine. I just updated to the latest Firefox today, but the issue started when I got the HP printer & tried to print while using Firefox 2 days ago.
I saw instructions in here on checking the paper_data. It shows letter. I changed from "fit to page width" to Scale 100. I still have the same issue. There was one other instructions given to someone in Mozilla Support to click "file" & then something else, but I have nothing on my page that says "file". I assume the person answering the question thought the person asking was trying to print a saved document, but that wasn't the case.
I tried to attach screen prints, but my laptop is having issues & isn't saving them for some odd reason, yet I can see them in the "recents" in Microsoft Word. I save them again, but the same thing. It isn't in the folder when I click "browse" on "Add images" below.
What else can I do? it's such a pain to have to go to Chrome every time I want to print something. Thanks
I just bought an HP Officejet 9018. I tried printing a receipt that was sent as an attachment to my gmail. It only prints very small in the upper left hand corner even though the print preview looks normal. I tried to print a return label that Amazon sent me a link to. It printed the same way. I called HP & after connecting with my laptop & trying many different settings unsuccessfully, they had me try to print from Chrome. The attached receipt in gmail & the return label printed fine from Chrome. It also printed fine from my gmail in my Android phone & my iPad, so the issue is only when in Firefox on my Windows 10 computer. My saved documents print fine. I just updated to the latest Firefox today, but the issue started when I got the HP printer & tried to print while using Firefox 2 days ago. I saw instructions in here on checking the paper_data. It shows letter. I changed from "fit to page width" to Scale 100. I still have the same issue. There was one other instructions given to someone in Mozilla Support to click "file" & then something else, but I have nothing on my page that says "file". I assume the person answering the question thought the person asking was trying to print a saved document, but that wasn't the case. I tried to attach screen prints, but my laptop is having issues & isn't saving them for some odd reason, yet I can see them in the "recents" in Microsoft Word. I save them again, but the same thing. It isn't in the folder when I click "browse" on "Add images" below. What else can I do? it's such a pain to have to go to Chrome every time I want to print something. Thanks
Všetky odpovede (1)