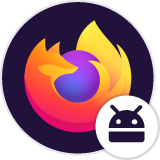 blank screen in Google meet
Hello! I'm constantly get a blank screen in firefox for Android (latest version of firefox, phone and tablet, Android 12 both), when I'm joining a conference in Google meet
Hello! I'm constantly get a blank screen in firefox for Android (latest version of firefox, phone and tablet, Android 12 both), when I'm joining a conference in Google meet
Все ответы (10)
Hello! You can try disabling the Enhanced Tracking Protection
You can do this by:
Go to the website that you're having an issue with;
Click the Lock Icon on the left of the address bar;
Click the toggle button next to "Enhanced Tracking Protection".
Unfortunately, that doesn't work: ( I've also tried to switch it off in the settings, but with no result
btw, everything works fine with older firefox versions, eg 79.0.5
That works for 1 time :) How it looks like: right after authentication i see a call window , where everything is working as a charm. But as soon as i press "leave meeting", and then join again - again blank screen. As for me, it seems that there is some kind of redirection(in my desktop version i see that there are several urls changing each other, from the moment of pressing "join" and appearing of a call window). Probably, mobile version is blocking it?
Hi
Do you have any add-ons installed in Firefox for Android?
Hi! No, I've tried fresh install from pay market, without any add-ons.
By the way, also tried other browsers (chrome & edge). Google meet is working there this way, but they have another issue - sound good thru tablet speakers, even with bt earphones connected
Have you granted Firefox for Android permission to use your camera?
Yes, including microphone and storage (except of location, Firefox don't ask for)
I am not hearing about this as being a wider issue for more people so I am very unsure what the issue could be at the back of this.
You may wish to consider using the dedicated Google Meet app or filing a bug report or feature request. See File a bug report or feature request for Mozilla products for details.