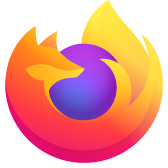 Firefox crashes
My Firefox 29 keeps crashing every now and then these days(It had some crashes in FF28 as well but not as much as that is crashing now).What's the possible reason(s) for it? Here is some of the last crash reports: bp-3c615f29-6105-49ba-b4ff-149172140508 b7819f8a-19d0-4ea5-99f8-581a0961dbd6 bp-ec9e1f83-5ae8-4377-9f98-a4b422140508 bp-94e83139-72e8-44bb-856e-52fe62140507 bp-65434d1b-8839-4cf9-9191-b31f92140504
My Firefox 29 keeps crashing every now and then these days(It had some crashes in FF28 as well but not as much as that is crashing now).What's the possible reason(s) for it? Here is some of the last crash reports: bp-3c615f29-6105-49ba-b4ff-149172140508 b7819f8a-19d0-4ea5-99f8-581a0961dbd6 bp-ec9e1f83-5ae8-4377-9f98-a4b422140508 bp-94e83139-72e8-44bb-856e-52fe62140507 bp-65434d1b-8839-4cf9-9191-b31f92140504
All Replies (6)
Hello,
Try Firefox Safe Mode to see if the problem goes away. Firefox Safe Mode is a troubleshooting mode that turns off some settings and disables most add-ons (extensions and themes).
(If you're using an added theme, switch to the Default theme.)
If Firefox is open, you can restart in Firefox Safe Mode from the Help menu by clicking on the Restart with Add-ons Disabled... menu item: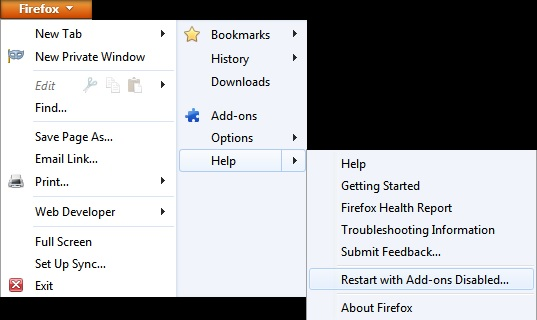 If Firefox is not running, you can start Firefox in Safe Mode as follows:
On Windows: Hold the Shift key when you open the Firefox desktop or Start menu shortcut.
On Mac: Hold the option key while starting Firefox.
On Linux: Quit Firefox, go to your Terminal and run firefox -safe-mode
(you may need to specify the Firefox installation path e.g. /usr/lib/firefox)
Once you get the pop-up, just select "'Start in Safe Mode"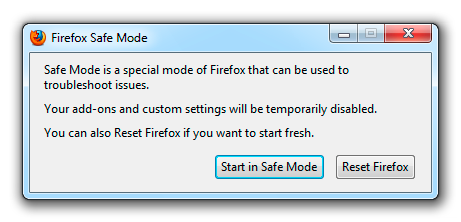 If the issue is not present in Firefox Safe Mode, your problem is probably caused by an extension, and you need to figure out which one. Please follow the Troubleshoot extensions, themes and hardware acceleration issues to solve common Firefox problems article to find the cause.
To exit Firefox Safe Mode, just close Firefox and wait a few seconds before opening Firefox for normal use again.
When you figure out what's causing your issues, please let us know. It might help others with the same problem.
See also
Thank you.
Can anyone tell me specificly What each one of these crash reports mean?
Hi,
What are you doing right before it crashes?
---
Can you try to start Firefox in Safe Mode to see if Firefox works properly with no error? You can start Firefox in Safe Mode below:
Windows/Mac: Go to Help > Restart with add-ons disabled
Linux: Run firefox -safe-mode in the Terminal/Konsole
If Firefox opens up fine with no problems, it's probably one of your extensions that's causing the issue. You can re-enable your add-ons one by one until you find the one that causes the issue upon being re-enabled.
Well I can't remember exactly what I was doing when it crashed last time,but sometimes it happens when I have about six tabs open and aslo when I'm using a proxy. I'll pay more attention next time it crashes and post a reply with the crash report ID.
There's been a bug report out for one of your crash signatures
Two users mentioned that crashes happened after they installed HTTPS Everywhere. I noticed you have that add-on enabled as well. Can you try to enable it and see if the crashes stop? Please give it at least a day before reporting back here.
Go to > Add-ons > Extensions and remove the HTTPS-Everywhere add-on.
Modified by Moses
Ok I disabled https-everywhere but, FF crashed again!bp-842fa093-c9b7-440d-8e43-951bb2140511 I was on this link when it happend:https://addons.mozilla.org/en-US/firefox/addon/alexa-sparky/ I had no other program runing on my pc. I read somewhere that the problem relates to the new version of flash plugin(not https-E) but I'm not sure about that.