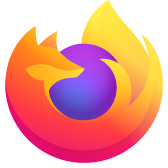 how do i get my bookmarks from a past account that i can no longer sign into? not getting a pazz reset email
Hi my last hard drive died on me a few days ago and i just got a new one today and i want to regain all my Firefox data, well pretty much only the bookmarks I have had and saved over the past 5 years, That's all i really care about, but when i try signing into my Firefox its not recognizing my password so i try to reset it but its not giving me the reset email i need to properly sign in. I know i only used 2 emails and i know ive had a sync set up in the past but none of the two emails worked on resending a password reset, i just want my old bookmarks back
Hi my last hard drive died on me a few days ago and i just got a new one today and i want to regain all my Firefox data, well pretty much only the bookmarks I have had and saved over the past 5 years, That's all i really care about, but when i try signing into my Firefox its not recognizing my password so i try to reset it but its not giving me the reset email i need to properly sign in. I know i only used 2 emails and i know ive had a sync set up in the past but none of the two emails worked on resending a password reset, i just want my old bookmarks back
All Replies (5)
Which version of Firefox were you using when your hard drive failed?
---
If you were using a Firefox 29+ version, you were on a Firefox Sync 1.5 version account - resetting your Password clears your data from the Sync server. Sorry, that is a fatal error and your data can't be recovered. And even if it could, your data would be useless as it was encrypted using the old password and Firefox can't decrypt your data using the new password.
---
Firefox 27 which you posted here with used an older version of Sync which isn't compatible with Firefox 29+ versions of Firefox. (Fx 29 was released in late April 2014 - almost a year and a half ago.) And the old 1.1 version of Sync is in the process of being shutdown permanently. Not sure if changing an account password still works or not.
Have you checked your spam folder for that email?
I was using 27 and I still am, I just want to somehow get my old bookmarks onto this hard drive is it at all possible to get those back at this time or do i just give up hope and use another browser.
Do you have the Recovery Key / Sync key for that older Sync service? That is the "encryption key" for Sync 1.1 .
If so, you still need the new password. Did you check the spam folder in whatever you use for email?
Didn't you get an email about the older Sync 1.1 version getting shutdown? That email address is the email account that would have received the password reset email.
I dont have the recovery key and i never got the email for the shutdown or my recent password resets even tho im doing two out of the two emails ive used for firefox/ingeneral
Sorry, without the Recovery Key you can't connect to the older version of Sync, even with your Email address / account name and if you had the password. All three are / were needed to connect to the Sync 1.1 system server for recovering data.