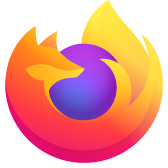 Firefox becoming troublesome with purchases and logins
Used to be my go-to browser; now I just use it to download stuff.
I often can't make online purchases whenever PayPal is involved; a pop-up window "doesn't," or a click-button is missing (like "complete purchase") or some such. I've had to fire up Chrome to make a purchase easily half a dozen times in the past several months to make a purchase.
NOW, it won't let me log in to my TracFone accounts, of which I have two. I use a password manager because it's impossible to keep track of 'em all. It fills in the fields correctly (I triple-verified this with my master spreadsheet of passwords), and I get an "invalid username or password" message every time, for either account. I can log in just fine with Chrome, same password manager.
I'm sure there's a fix, like flush the cache and delete all cookies and such, but really... I never used to have do to any of that, Firefox was rock solid and never gave me any grief, and then after some update was installed (can't say when), this stuff started up. It's starting to act like Windows, where I spend as much time wrestling with the OS as I do trying to use it (100% disk usage and other nonsense).
Am I the only one experiencing this kind of issue? Is there a bug-fix for any of it? If not, I'd like to submit one (two, if the paypal thing and the login thing have to be treated as separate problems).
Thanks for reading this.
karl
Used to be my go-to browser; now I just use it to download stuff. I often can't make online purchases whenever PayPal is involved; a pop-up window "doesn't," or a click-button is missing (like "complete purchase") or some such. I've had to fire up Chrome to make a purchase easily half a dozen times in the past several months to make a purchase. NOW, it won't let me log in to my TracFone accounts, of which I have two. I use a password manager because it's impossible to keep track of 'em all. It fills in the fields correctly (I triple-verified this with my master spreadsheet of passwords), and I get an "invalid username or password" message every time, for either account. I can log in just fine with Chrome, same password manager. I'm sure there's a fix, like flush the cache and delete all cookies and such, but really... I never used to have do to any of that, Firefox was rock solid and never gave me any grief, and then after some update was installed (can't say when), this stuff started up. It's starting to act like Windows, where I spend as much time wrestling with the OS as I do trying to use it (100% disk usage and other nonsense). Am I the only one experiencing this kind of issue? Is there a bug-fix for any of it? If not, I'd like to submit one (two, if the paypal thing and the login thing have to be treated as separate problems). Thanks for reading this. karl
すべての返信 (1)