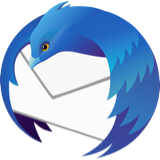 recovery of my folders and e-mails
It started with an e-mail that is repeatedly being sent to me (about Russian ladies...). The e-mail has the same date (aug 28th) and time (14:19). It prevents my other emails from coming in. I can see thare are a bunch of e-mails waiting to come in, but nothing happens. Via webmail they still can come in, so the problem is within my local (disrupted?) installation of Thunderbird.
Thus.... I re-installed my thunderbird client, but something went horribly wrong. All my folders with the e-mails within are now gone.
So... I started the recovery tool from Thunderbird. There I could see the original folder structure of my e-mails. And I gave the command to start recovering. My Pc is running wild and I could see at the bottom of my screen the folder structure including all the e-mails passing by. and at the right bottom two green progress bars. After 5 minutes or so it seems completd. But thee are no e-mails presented in the center window to be recoverd....!
Did I do something wrong? Is it taken care off, but placed somewhere else? Please help me out, because thee are some pretty important e-mails there...!
Thanks in advance!
UPDATE 31/8 I finally managed (after a scan of my harddisk) to see all my 80.000 (!) e-mails. I payed for the recovery tool, so I can see my e-mails via a detour, but not all via Thunderbird. is there any way to import all my e-mails (with their folders...) to my freshly configurated Thunderbird installation?
And still, I can't receive any e-mails, because that e-mail about the russian ladies seems to block all other incoming e-mails... See illustration.

Again: please help me out!
UPDATE: 1/9 All of a sudden my e-mailis are coming in again! And via Recovery tool I recovered all of my emails in 80.000 separate files,but they are well searchable. So, there seem to be no problems here... Except from the originally placing in the original folders. But, I canlive withthat (I do hope...)
Bye for now!
Armand
It started with an e-mail that is repeatedly being sent to me (about Russian ladies...). The e-mail has the same date (aug 28th) and time (14:19). It prevents my other emails from coming in. I can see thare are a bunch of e-mails waiting to come in, but nothing happens. Via webmail they still can come in, so the problem is within my local (disrupted?) installation of Thunderbird. Thus.... I re-installed my thunderbird client, but something went horribly wrong. All my folders with the e-mails within are now gone. So... I started the recovery tool from Thunderbird. There I could see the original folder structure of my e-mails. And I gave the command to start recovering. My Pc is running wild and I could see at the bottom of my screen the folder structure including all the e-mails passing by. and at the right bottom two green progress bars. After 5 minutes or so it seems completd. But thee are no e-mails presented in the center window to be recoverd....! Did I do something wrong? Is it taken care off, but placed somewhere else? Please help me out, because thee are some pretty important e-mails there...! Thanks in advance! UPDATE 31/8 I finally managed (after a scan of my harddisk) to see all my 80.000 (!) e-mails. I payed for the recovery tool, so I can see my e-mails via a detour, but not all via Thunderbird. is there any way to import all my e-mails (with their folders...) to my freshly configurated Thunderbird installation? And still, I can't receive any e-mails, because that e-mail about the russian ladies seems to block all other incoming e-mails... See illustration. Again: please help me out! UPDATE: 1/9 All of a sudden my e-mailis are coming in again! And via Recovery tool I recovered all of my emails in 80.000 separate files,but they are well searchable. So, there seem to be no problems here... Except from the originally placing in the original folders. But, I canlive withthat (I do hope...) Bye for now! Armand
この投稿は vinaka により に変更されました