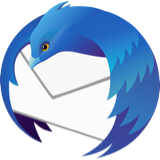 "unable to export this remote folder"
OK, so every once in a while I want to archive my TB IMAP e-mails, by downloading to files. I select a mail folder, right click, go to "ImportExportTools NG" and select "Export Remote Folder". Often, it works without a hitch, and the folder downloads as a file of concatenated e-mails. But sometimes I get an error message that reads "Unable to export this remote folder ..." which has something to do with Javascript. WTF? Strangely, when TB goes into this mode, I *am* able to download by going to "Tools">"ImportExportTools NG" and selecting "Export Remote Folder". This works, when right clicking the file does not.
So, what the hell is going on? What exactly does this error mean, and whyever does the way you launch "ImportExportTools NG" make any difference?
OK, so every once in a while I want to archive my TB IMAP e-mails, by downloading to files. I select a mail folder, right click, go to "ImportExportTools NG" and select "Export Remote Folder". Often, it works without a hitch, and the folder downloads as a file of concatenated e-mails. But sometimes I get an error message that reads "Unable to export this remote folder ..." which has something to do with Javascript. WTF? Strangely, when TB goes into this mode, I *am* able to download by going to "Tools">"ImportExportTools NG" and selecting "Export Remote Folder". This works, when right clicking the file does not. So, what the hell is going on? What exactly does this error mean, and whyever does the way you launch "ImportExportTools NG" make any difference?
All Replies (6)
just me feeling, but clicking on a folder to open it usually initiates a conversation with the mail server about if the folder is up to date or not and mostly initiates some updates.
So clicking the folder and right clicking might be a race condition where the folder is being updated. Where using the menu would see none of the update stuff occurring.
But this is not the support site for the add-on, so I am only guessing based on what I think I know. I that is not enough, perhaps try using the support link from the add-on home page which is given as https://github.com/thundernest/import-export-tools-ng/issues
Thank you. I had forgotten that "ImportExportTools NG" was an add-on. If updates are required for an IMAP folder, how long should that take? I tried it again ten minutes later, and had the same problem.
if you open the Activity manager, it should show which actions are active. I find my box spends a lot of time determining what mails to index in folders. But I have a Lot of email in some folders.
Hmmm. "Activity Manager". Never paid any attention to that, but yes, I can see how with IMAP that might be especially useful. I just moved over to IMAP from POP a year or so ago, and I'm still getting used to it.
I still do not "like" imap, but I am old school. My data not some possession of google or Yahoo or some other corporation, but it has it's uses.
I hear ya talkin'. I was a POP devotee until last year, and then, for an account that I need to access on several machines, IMAP seemed more appropriate. I still use POP for other accounts. Of course, for POP, archiving is trivial, but your collection of e-mails is then machine-specific.