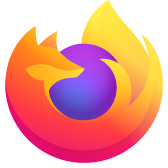 my firefox get bigger after update
ok my problem is: before: https://i.ibb.co/gdBssLZ/Image-224.png after: https://i.ibb.co/fSY8RHf/Image-241.png my firefox take up more space, even my addons dont fit the way it was. its very annoying, how can i make it back?
All Replies (3)
This is related to a change in how Firefox 103 (beta) adapts to your Windows "Text Size" or "Text Scaling" setting. Please refer to this thread from earlier today:
https://support.mozilla.org/questions/1381272
Does that modification work for you?
and what if mine is 175%? i tried 1.5 (almost same as it was) but the writing on my tabs is tiny as hell :S

1.0 => 100% of the standard 96dpi 1.25 => 125% of the standard 96dpi 1.5 => 150% of the standard 96dpi 0.9 => 90% of the standard 96dpi
Normally it is proportional. What is your enlargement settings in the Display control panel? I have 100% for everything, so in order to see this personally, I need to gather some problem settings.