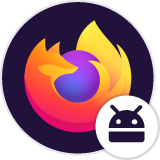 Firefox on Android: optimizing and auto-restart of live video stream
I have Firefox (Beta) installed on a Samsung S8 Android, and its sole purpose in life is to display a live videostream (live TV program from https://canalcurta.tv.br/viainternet ).
The problem is that the internet link in/from Brazil is "variable", meaning the live stream will hang - sometimes for a few seconds, and sometimes "forever".
So I have two questions:
1) Is there a buffer setting for live streaming video. (It does not matter if the stream is 2 minutes late! ;) ) (I don't want to "load entire video before watching", only have a very large buffer for live videos.)
2) Is there a way to make Firefox auto-restart a video stream which has hung more than 1 minute (or whatever)?
Thank you very much! Your help is much appreciated! <3
I have Firefox (Beta) installed on a Samsung S8 Android, and its sole purpose in life is to display a live videostream (live TV program from https://canalcurta.tv.br/viainternet ). The problem is that the internet link in/from Brazil is "variable", meaning the live stream will hang - sometimes for a few seconds, and sometimes "forever". So I have two questions: 1) Is there a buffer setting for live streaming video. (It does not matter if the stream is 2 minutes late! ;) ) (I don't want to "load entire video before watching", only have a very large buffer for live videos.) 2) Is there a way to make Firefox auto-restart a video stream which has hung more than 1 minute (or whatever)? Thank you very much! Your help is much appreciated! <3