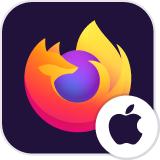 Deleting bookmarks shared with other devices
Hi, I am keen to use Firefox on iOS, but I have had problems when trying in the past. I know you have not had it easy with Apple.
I see you now make it easy to delete bookmarks from my iOS device.
I want a warning before doing this until I explicitly request the warning is removed.
I doubt I will want to use this feature regularly Also, I often find my iPhone has ghost activity which makes it hard to trust my iPhone and what it is doing. I have tried to stop it. I bought a second hand iPhone which limits my choices on diagnosing the problem effectively.
I have looked for effective ways of monitoring/ detecting when the problem occurs and not found promising answers.
I don't want to compromise my Firefox data collected more securely on my PC. Hence my request for this feature.
If you are interested in discussing the wider issue regarding iPhone ghost touch and it's imoact on using apps like Firefox, I would be very interested.
I hope you can respond to my email Cheers
   Mark

Hi, I am keen to use Firefox on iOS, but I have had problems when trying in the past. I know you have not had it easy with Apple. I see you now make it easy to delete bookmarks from my iOS device. I want a warning before doing this until I explicitly request the warning is removed. I doubt I will want to use this feature regularly Also, I often find my iPhone has ghost activity which makes it hard to trust my iPhone and what it is doing. I have tried to stop it. I bought a second hand iPhone which limits my choices on diagnosing the problem effectively. I have looked for effective ways of monitoring/ detecting when the problem occurs and not found promising answers. I don't want to compromise my Firefox data collected more securely on my PC. Hence my request for this feature. If you are interested in discussing the wider issue regarding iPhone ghost touch and it's imoact on using apps like Firefox, I would be very interested. I hope you can respond to my email Cheers Mark