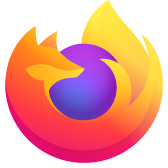 Fire fox changed icons last update May 12 2019
Fire fox changed icons last update May 12 2019
Fire fox changed icons last update May 12 2019
All Replies (19)
Are you talking about the shortcut or the program itself?
For the shortcut; Right click on it. Select Properties. Under Shortcut, select Change Icon.
no icons to change to that match the web site
What icons are you talking about? Bookmarks?
no not bookmarks, icons on the desktop links to alot of dofferent web sites
If this is about shortcuts on the desktop then this might be done by Windows and not by Firefox. This can happen if the default browser is changed.
To what icons on the desktop were the website icons changed?
not done by windows, they are firefox icons
Firefox creates only the shortcut. The computer sets the icon to the default web browser.
You would have to get the icon for the website, store it, then change that shortcut's icon to the one you want.
I know how to but there are no icons to match the website
well why are they firefox icons
windsorbug said
well why are they firefox icons
Because your OS (Windows) knows that Firefox is your default browser.
One can choose their own icons, but every once in a while Windows decides to change them (especially with an update).
If you'd like to post about this on the official Microsoft support forum (like many people already have over the past few years) :
windsorbug said
nobody knows,
Nobody knows what ? That Firefox is your default browser ? Your OS does - you had to set Firefox as your default browser on your system.
You would have to set the icon in the shortcut yourself if Firefox didn't do this or if Windows had reset the icons to the icon of the default browser as can happen in some cases.
Do you get the website favicon if you create a new desktop shortcut?
nobody knows how to fix my icons! But I do if it is available on the website for that link (icon) just inquiring if there may be another way. No using windows icons will not fix them! Those are only ones that come with windows.
Thank you for the clarification - I thought your "Nobody knows" was a reaction to my "Because your OS (Windows) knows that Firefox is your default browser" (sorry !)
Unfortunately I don't know of another way than to drag the site's icons to the desktop shortcut - but someone else may come up with a better solution for you (fingers crossed).
There is a pref that should make Firefox use the favicon when you create a desktop shortcut.
browser.shell.shortcutFavicons = true
You would have to recreate existing desktop shortcuts that have lost their icon (i.e. visit the link and create a new shortcut). Best is to set such internet shortcuts on the desktop to read-only to prevent losing their icon.