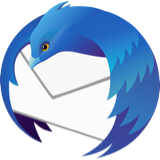 Will Thunderbird Chat complete support for XMPP (need SRV) ?
After trying to connect to my XMPP server I noticed that Thunderbird does not try to resolve the proper DNS records for XMPP, instead it seems to try to connect to the A record for the domain name.
This makes the Chat part useless unless the user does the DNS queries themselves.
More on XMPP SRV Records: http://wiki.xmpp.org/web/SRV_Records

I'm a bit surprised this question has not been asked before, if I have missed a page that addresses this, do let me know.

Cheers
After trying to connect to my XMPP server I noticed that Thunderbird does not try to resolve the proper DNS records for XMPP, instead it seems to try to connect to the A record for the domain name. This makes the Chat part useless unless the user does the DNS queries themselves. More on XMPP SRV Records: http://wiki.xmpp.org/web/SRV_Records I'm a bit surprised this question has not been asked before, if I have missed a page that addresses this, do let me know. Cheers
All Replies (2)