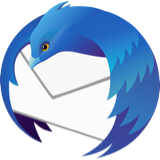 Fix problems with email providers (gmail, Yahoo, etc.)
Learn how to fix problems with Gmail, Yahoo and other email providers
If your mail server supports both IMAP and POP, Thunderbird will use IMAP by default. Use these instructions to manually configure a POP account.
Changes to OAuth authentication for Microsoft 365 (formerly Office 365; often abbreviated as "o365") business and academic hosted email accounts and services.
If you cannot receive messages, this page provides a series of steps you can use to check for common problems.
How to send and receive email messages using Thunderbird.