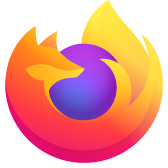 Firefox crashes when closing also flash keeps freezing
Problem Event Name: APPCRASH
 Application Name:	plugin-container.exe
 Application Version:	33.1.1.5430
 Application Timestamp:	54656826
 Fault Module Name:	mozalloc.dll
 Fault Module Version:	33.1.1.5430
 Fault Module Timestamp:	54654321
 Exception Code:	80000003
 Exception Offset:	00001425
 OS Version:	6.1.7601.2.1.0.256.1
 Locale ID:	1033
 Additional Information 1:	0a9e
 Additional Information 2:	0a9e372d3b4ad19135b953a78882e789
 Additional Information 3:	0a9e
 Additional Information 4:	0a9e372d3b4ad19135b953a78882e789

Problem Event Name: APPCRASH Application Name: plugin-container.exe Application Version: 33.1.1.5430 Application Timestamp: 54656826 Fault Module Name: mozalloc.dll Fault Module Version: 33.1.1.5430 Fault Module Timestamp: 54654321 Exception Code: 80000003 Exception Offset: 00001425 OS Version: 6.1.7601.2.1.0.256.1 Locale ID: 1033 Additional Information 1: 0a9e Additional Information 2: 0a9e372d3b4ad19135b953a78882e789 Additional Information 3: 0a9e Additional Information 4: 0a9e372d3b4ad19135b953a78882e789
Όλες οι απαντήσεις (2)
Hi toddted, Thank you for your question. I understand that your flash keeps freezing and your Firefox is crashing. It is possible to troubleshoot the plugin container: What is plugin-container more information on this there.
However if there are crashes, they can be further investigated with the crash reports.We're sorry to hear that Firefox is crashing. In order to assist you better, please follow the steps below to provide us crash IDs to help us learn more about your crash.
Enter about:crashes in the Firefox address bar and press Enter. A Submitted Crash Reports list will appear, similar to the one shown below.
Copy the 5 most recent Report IDs that start with bp- and then go back to your forum question and paste that into the "Post a Reply" box. (Please don't take a screenshot of your crashes, just copy and paste the ID's. The below image is just an example of what your Firefox screen should look like)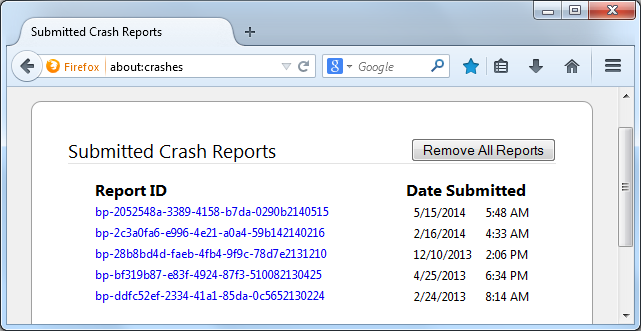 Thank you for your help!
More information and further troubleshooting steps can be found in the Troubleshoot Firefox crashes (closing or quitting unexpectedly) article.