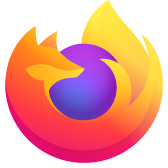 display unreadable past couple days, cannot use online banking, verizon sign-in, others.
why is information distorted and unusable now?
why is information distorted and unusable now?
Geändert am von notanotherhero
Alle Antworten (6)
I notice the site in the second screenshot has black text on a black background in the left column, whereas the background in the first screenshot is white. Is this the only site affected by that problem?
I don't really understand what is happening with the rest of the page....
If a site is generally known to work in Firefox, these are standard suggestions to try when it stops working normally:
Double-check content blockers: Firefox's Tracking Protection feature, and extensions that counter ads and tracking, may break websites that embed third party content (meaning, from a secondary server).
(A) The shield icon toward the left end of the address bar usually turns a bit purplish when content is blocked. Click the icon to learn more or make an exception. See: Enhanced Tracking Protection in Firefox for desktop.
(B) Extensions such as Adblock Plus, Blur, Disconnect, DuckDuckGo Privacy Essentials, Ghostery, NoScript, Privacy Badger, uBlock Origin or uMatrix may block required elements on a site. Usually you can find a toolbar button for each add-on to manage blocked content in a page. There may or may not be a number on the icon indicating the number of blocked items; you sometimes need to click the button to see what's going on and test whether you need to make an exception for this site.
Cache and Cookies: When you have a problem with one particular site, a good "first thing to try" is clearing your Firefox cache and deleting your saved cookies for the site.
(1) Clear Firefox's Cache
See: How to clear the Firefox cache (only select Cached web content, don't clear all cookies and site data)
If you have a large hard drive, this might take a few minutes.
(2) Remove the site's cookies (save any pending work first). While viewing a page on the site, click the lock icon at the left end of the address bar. After a moment, a "Clear Cookies and Site Data" button should appear at the bottom. Go ahead and click that. Firefox will ask you to confirm; go ahead and confirm.
Then try reloading the page. Does that help?
Testing in Firefox's Troubleshoot Mode: In this mode, Firefox temporarily deactivates extensions, hardware acceleration, any userChrome.css/userContent.css files, and some other advanced features to help you assess whether these are causing the problem.
If Firefox is running:
You can restart Firefox in Troubleshoot Mode using either:
"3-bar" menu button > Help > Troubleshoot Mode... (before Fx88: Restart with Add-ons Disabled)
(menu bar) Help menu > Troubleshoot Mode... (before Fx88: Restart with Add-ons Disabled)
and OK the restart. A small dialog should appear. Click the Open button (before Fx88: "Start in Safe Mode" button).
If Firefox is not running:
Hold down the Shift key when starting Firefox. (On Mac, hold down the option/alt key instead of the Shift key.) A small dialog should appear. Click the Open button (before Fx88: "Start in Safe Mode" button).
Note: Don't use the Refresh without first reviewing this article to understand what will be deleted: Refresh Firefox - reset add-ons and settings.
Any improvement?
hi ! it's a disaster from an unknown source. together we (you, me, my bank, the president) will solve it. i very much appreciate your instructions. (attached screen cap FYI w my red notes is an in-progress condition after continuing to follow instructions through FF Troubleshooting.) i will keep you posted, but i am going to go very slowly and will eat something first, so it may be tomorrow. you are a great example of a dedicated FF volunteer. elise
Did you make changes to the default color settings from black text on white background?
Settings -> General -> Language and Appearance -> Colors -> Manage Colors
hi, corel. i use Dark Reader. no changes made. thanks for responding. i think i'll just blame elon. elise
to my two responders: Verizon has assigned a ticket Upon checking here, it seems that this issue is within the Verizon network. I will be creating a ticket directed to our Operations Support Center. Let me provide you with the reference ticket number, which is: MAHM01QVNS
so I will not close this for now, while i wait for the ticket to be resolved and see whether that solves the view/access issue.
109.0.1 just updated now.
is there any reason Windows 7 cannot properly use this version when i try to access my banking provider ?
all previous updates have worked great. (Dark Reader makes it nice and dark.)