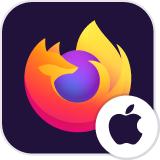 Synced Tabs not working on iOS device specifically
Hi,
I have Firefox Sync enabled on a MacBook, a PC, and my iPhone XS Max. Synced Tabs show up between the PC and Mac, but neither show signs of the iPhone XS Max. Managing devices shows all devices and I've removed duplicates while troubleshooting. Synced Tabs on the iPhone shows no devices at all. I've disabled Sync and re-enabled on the iOS device. Firefox version is latest on iPhone(27). I haven't deleted and reinstalled Firefox on the iPhone, I have many open tabs I don't want to lose track of, but am willing to do so if this sledgehammer approach seems necessary. I can send tabs from the iPhone to the computers successfully. I've just tested bookmarks and I'm not seeing bookmarks go in each direction. I'm updating with a forced "Sync Now" on both devices when testing.
I'd appreciate any help or suggestions to get syncing working properly between all three devices.
Derek
Hi, I have Firefox Sync enabled on a MacBook, a PC, and my iPhone XS Max. Synced Tabs show up between the PC and Mac, but neither show signs of the iPhone XS Max. Managing devices shows all devices and I've removed duplicates while troubleshooting. Synced Tabs on the iPhone shows no devices at all. I've disabled Sync and re-enabled on the iOS device. Firefox version is latest on iPhone(27). I haven't deleted and reinstalled Firefox on the iPhone, I have many open tabs I don't want to lose track of, but am willing to do so if this sledgehammer approach seems necessary. I can send tabs from the iPhone to the computers successfully. I've just tested bookmarks and I'm not seeing bookmarks go in each direction. I'm updating with a forced "Sync Now" on both devices when testing. I'd appreciate any help or suggestions to get syncing working properly between all three devices. Derek