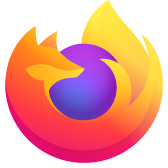 Nuance Dragon Pro Extension to use Firefox browser w Voice command
Hi Firefox support
I am using Nuance Dragon Professional and trying to install the Dragon extension into Firefox. This is because I am disabled and my hands do not work well See this link https://dnsriacontent.nuance.com/13/setup/ffinstall.html?lang=ENX&browser=firefox
When I hit the install the extension button on the screen nothing happens
I did check to see if this extension was in the Mozilla Firefox extension library and no success
I can make this work with Google Chrome but I would prefer to stick with Firefox Chris Gullett - cg@printstar.biz
Hi Firefox support I am using Nuance Dragon Professional and trying to install the Dragon extension into Firefox. This is because I am disabled and my hands do not work well See this link https://dnsriacontent.nuance.com/13/setup/ffinstall.html?lang=ENX&browser=firefox When I hit the install the extension button on the screen nothing happens I did check to see if this extension was in the Mozilla Firefox extension library and no success I can make this work with Google Chrome but I would prefer to stick with Firefox Chris Gullett - cg@printstar.biz
All Replies (6)
Hi cg12, I looked up information about adding Dragon to Firefox: Go to - Menu > Add-ons and themes Click Plugins in the panel on the left In the drop-down menu, select Always Activate. Firefox will now allow Dragon to run on all websites.
Hope it helps.
thanks for this reply – I'm in the same position as Chris, and I did try this advice. It seems to assume that you have the extension downloaded and installed, in order to select "always activate". The difficulty here is with downloading the extension in the first place. The "install" button on the https://dnsriacontent.nuance.com/13/setup/ffinstall.html?lang=ENX&browser=firefox link doesn't work when pressed. I have tried changing the permission settings in Firefox for this webpage, to allow add-ons to be installed – the default is that this is blocked – but that hasn't solved the problem. I'm using Windows 10 and Windows defender, had a quick look at the settings for that, it seems to me that it should tell me if it is deciding not to install something, so I'm not sure that is a problem either – though I'm not technically proficient enough to rule it out!
If anybody else has any good experience or has found a solution, myself and presumably Chris would be very happy to hear from you!
Wishing you well,
Andy
Hi Andy, I was able to extract this addon link from the source code of the page: https://dnsriacontent.nuance.com/13/ff/DgnRiaFF.xpi
But you're right, clicking the "Install web extension" button or the "Verify plugin settings" button does nothing. So either they have coded those buttons incorrectly or Firefox is failing to respond to them when clicked for some reason. I'll see if I can ask someone to check that page to see what might be wrong.
dear NoahSUMO,
I much appreciate your prompt and helpful response, thank you kindly. However, I'm afraid I'm not really savvy enough to know what to do with it. I clicked on the link, that then downloaded the file which my Windows PC told me it did not know how to open. When I have installed this extension before, Firefox has automatically picked it up and asked me what I wanted to do. Is there some obvious step I am failing to take?
Wishing you well,
Andy
Hey Andy, I assumed it would prompt to install the addon after clicking on the link. After testing it myself, it looks like it only downloads it. So then I tried dragging the addon file to the browser to install it (which is another way to install a Firefox addon). It then threw an error saying the file was corrupted. I was shocked.
Then it hit me that this addon file is probably very outdated & that's Firefox's way of rejecting the addon because it has not been updated for this version of Firefox. It looks like that addon was created around 2017 thru 2019. And appears to have stopped working shortly after than & has not had a new updated version created. I spent some time digging for a new version of the addon & couldn't find one. Maybe development on the Nuance Dragon Professional software has stopped?
I found this blog post with some interesting comments at the bottom about it not working back in 2019 either: https://dragononline.wordxpression.nl/blog/good-news-about-dragon-and-firefox-15-3/
I did a deeper dive on Reddit (Complaint from 2020 that the Dragon extension isn't working on Firefox or Chrome) & saw a suggestion to ask questions about speech recognition on a very helpful forum dedicated to it called KnowBrainer Speech Recognition
So I hate to redirect you to another forum but please try asking there & report back if you found any alternative solution. If you do, don't hesitate to come back here & let us know. I would be very happy to know you found a solution to this!
what a hugely generous and helpful reply, thank you so kindly! It would have taken me so long to figure all of this out, or perhaps I never would have. This is really odd, because when I was looking yesterday and the day before, I saw somewhere on the Dragon website that it now only had extensions for Firefox and Safari browsers, and even when they used to do more, Firefox was always the browser that worked best with Dragon, by quite some way.
Your suspicion that they are no longer updating was indeed my fear – and there is a cautionary tale in this. The reason I'm looking for this extension is not because I didn't have it – I did – but that Dragon does not recognise when extensions are installed, seemingly on any browser (at least on PC). It prompts you, when you open it, to "restore" the extension. Given that I had not updated the extension for quite a while, but did recently get an update from Dragon, I thought that maybe I needed to reinstall it. So I deleted the extension I had – which had started to become a little unreliable, but still more or less worked – and tried to follow the instructions that this thread starts with... Therefore, anyone who is still reading at this point (!), if you have the extension, don't delete it, even if it is a bit ropey! Who knows if Dragon will fix it. They used to bring out a new product every year (12, 13, 14…), and they have been on Dragon 15 since at least 2018, albeit with infrequent updates. Since the likes of Microsoft, Apple and Amazon moved into voice assistants, I suspect things have become more difficult for Dragon, financially, even though I'm not aware that you can entirely control a computer or other device without keyboard, mouse, screen et cetera. You can ask Siri who won the football, and these days to switch between apps, but you still can't get it to move the cursor or operate in-app functions, and all the other things that you can with Dragon. It's a bit cynical that all this focus on voice still doesn't address the needs of all those people who can only use their voice to operate a computer. If Microsoft and Apple were serious about this, something like Dragon would be built into their operating systems… But hey, here we are, having a chat like this on the sidelines – does tell you something about the digital age, though…
Thanks again for all the help,
Andy